Hello People of the Internet!
My name is Elizabeth "Lizzy" Shapiro – I'm the lead singer of Lizzy and the Triggermen. My day job is writing and acting where I've been lucky to work with awesome folks like Ben Stiller and Aziz Ansari. I recently created and starred in a TV show called "The Crossroads of History" (The History Channel) which just got nominated for a couple of Emmys!  But what many people don't know about me is that I'm also a singer – in fact, I spent much of my life training to be an opera singer. While I have, sadly, never sang in La Scala – I did sing the opera opening to Jackass 3D (take that, Maria Callas).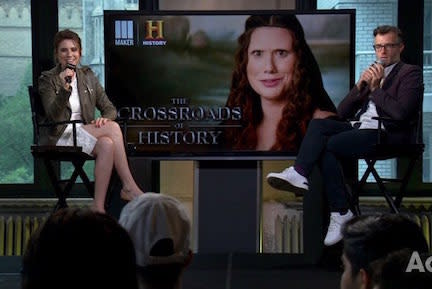 I'm what you call an "old soul." I've always been drawn to music of a bygone era – and, in my opinion, there is no greater music on this planet than the jazz of the 20s and 30s. So last year I decided to take my savings and create a 10-piece Prohibition jazz band made up of some of the best jazz musicians in the country (guys who have played with everyone from Benny Goodman to Rosemary Clooney to Woody Allen).
This was (by most economic metrics) a very bad idea. Hell, it's hard for a singer-songwriter to make a living doing music these days, let alone a 10-piece band. But from day one I've had an unwavering belief in this project.
The idea of the band is to evoke the raucous, fun, sexy, illicit energy of early jazz shows – but with a modern spin.  In addition to resurrecting great old songs that have been lost to history, we also play jazz versions of new pop songs – from The Strokes to Britney Spears.
Our shows are whole extravaganzas. In addition to the band, each show has incredible guest performers: from insane tap dancers like Kenji Igus (a young Gregory Hines), to world-class swing dancers (Dancing with the Stars) to bold and fierce modern dancer, Mecca Vazie Andrews (Daft Punk, the Joffrey Ballet).
Mecca: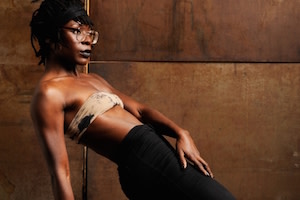 Kenji
And you never know who in the audience will hop up on stage and join us for a tune – from musicians from some of the hottest indie bands to famous actors. 
We do full, intricate arrangements for each song (the way bands used to – but few do today as it is a lost art). Thankfully, our band leader, Dan Barrett is one of the best in the world at doing big band charts. He's humble, so I'll brag for him – he even arranged for Benny Goodman!
Here's the band:
 Elizabeth Shapiro (Singer)
 Dan Barrett (Band Leader, Trombone)
 Nate Ketner (Alto Sax, Clarinet)
Luca Pino (Guitar)
 Corey Gemme (Trumpet)
 Gareth Price (Drums)
 Benedikt Brydern (Violin)
 Chris Dawson (Piano)
 Nick Ornelas (Bass)
 Jim Jedeikin (Tenor Sax, Clarinet)